Tevfik Erdonmez Sk. No2 Gul Apt. K6 D35 Sisli / ISTANBUL

+90 212 347 28 30

info@tacas.com.tr
TAC is an innovative consultancy and solution company.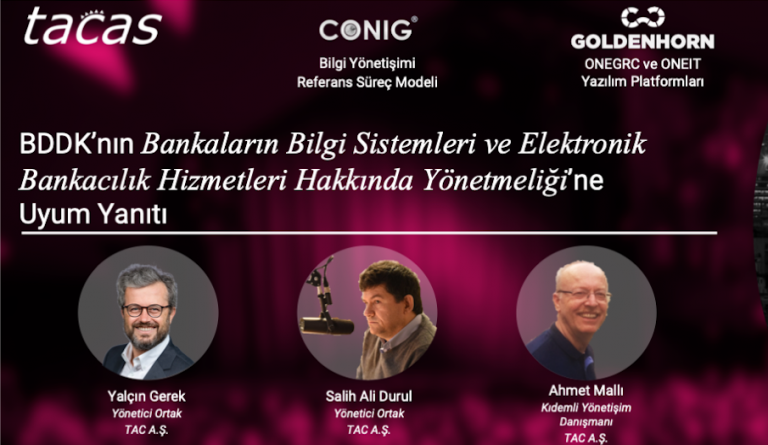 Birinci Webinar Kapsamı (24 Eylül 2020 15:00 - 17:30)
Bilgi Sistemleri Yönetişimi
Bilgi Sistemleri Risklerinin Yönetilmesi
Sistem Geliştirme ve Değişiklik Yönetimi
Sistem Geliştirme, Taşıma ve Kurulum
Uygulama Kontrolleri
Değişiklik Yönetimi
Bilgi Sistemleri İç Kontrol ve İç Denetim Faaliyetleri
Ücretsiz Kayıt İçin ...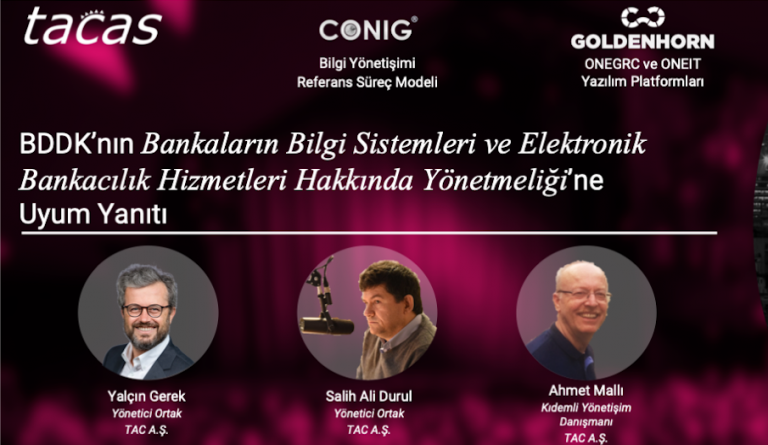 İkinci Webinar (30 Eylül 2020 15:00 - 17:30)
Bilgi Güvenliği Yönetimi
Bilgi Sistemleri Sürekliliği ve Erişilebilirlik Yönetimi
Dış Hizmet Alımı
Ortak Hükümler
İnternet Bankacılığı
Mobil Bankacılık
Telefon Bankacılığı
Açık Bankacılık Servisleri
ATM Bankacılığı
Ücretsiz Kayıt İçin ...
TAC – Differentiators
Our Asset

We have developed a number of assets to execute against proven methodologies and our experience from our clients. Our unique approach and assets enable us to deliver value to our clients in faster, more comprehensive and more cost effective fashion than our competitors.
Our Expert Team

Our people are proved and certified experts in the governance and management of IT. Each member of our team brings significant level of hands-on experience from different industries. We invest remarkable amounts to build up our capabilities and to ensure they are up-to-date and market relevant.
Our Benefit Realization Approach

Improvements in documents and spreadsheets show goodwill, but do not create value unless benefits are realized. Our implementation approach is guided by practical implementation and benefit realization. We have an outstanding track record of projects implemented with leading corporations in Turkey and GCC region.